Close Tactical Support Continues
As Operation TOLEDO wound down, ARDF support for the 1st Infantry Division's campaign against the 9th VC Division north of Saigon continued into August, adding an additional 10 fixes to the 35 made in July, making the Big Red One's EL PASO operations the greatest object of Phyllis Ann's attention to date. For the month of August, the five available EC-47s—all Tan Son Nhut based—totaled 483 flying hours in 87 sorties, fixing 169 enemy transmitters in the process.
In the western highlands, trouble continued to brew. In May, enemy forces attacked a special forces camp in northern Kontoum province, an area where the Ho Chi Minh Trail entered South Vietnam. American units responded with Operation HAWTHORNE, precipitating occasional, sometimes brutal, fire fights. For his actions in one of these, Capt. William S. Carpenter, the All American "lonesome end" on West Point's 1958-59 football teams, was awarded the Medal of Honor. Four days later a well-executed B-52 strike, targeted by a series of ARDF fixes, blasted the opposing 24th NVA Regiment with 432 tons of 750 and 1,000 pound bombs. An army commander who witnessed the strike described the damage as resembling "that which could be expected from a low yield nuclear weapon." The Americans promptly (and uncharacteristically) followed up with an air assault which finished off the dazed North Vietnamese survivors. There were no U.S. casualties.
James Robins stands beside an unfinished portrait of Phyllis Ann.
Someone was a pretty good artist! (Click for full-size view.)
A bit further south, a larger threat began to emerge. In late August, NSA advised that "the largest [enemy] tactical concentration in Southeast Asia" was gathering southwest of Pleiku City, near the scene of the fierce Ia Drang valley battles the previous fall. On 23 August, the entire DRILL PRESS contingent moved to Pleiku to augment the hard pressed DSU supporting PAUL REVERE II, the continuation of an operation kicked off earlier in an attempt to block the NVA regiments pouring out of their Cambodian sanctuaries. PAUL REVERE involved not only the usual heliborne assaults and Arc Light strikes, but U.S. armored units and a South Korean battalion as well. However, the airfield at Pleiku quickly proved to be unsuitable; DRILL PRESS operations were moved back to Tan Son Nhut, with a stop at Pleiku after each mission to drop the SIGINT "take."
In September, four more EC-47s arrived, also at Tan Son Nhut. For the month, PHYLLIS ANN crews made 382 fixes, 47 of which were in direct support of named operations. Of these, the highest number of fixes (19) went to PAUL REVERE, but additional support was provided to III MAF's Operation PRAIRIE in the northern reaches of I Corps. To better support the Marines and to cover the STEEL TIGER and TIGER HOUND areas of Laos, a forward operating location was established at Da Nang. ARDF results in support of operations in I Corps and around the DMZ "were beyond expectations, providing eagerly sought information for strategic and tactical planning." Consumers "expressed their complete satisfaction" and "requested further coverage by Phyllis Ann aircraft specifically." [Emphasis added.] The CINCPAC intelligence chief put it more succinctly: "Without [ARDF] we would be in the dark about the enemy situation."

More Aircraft, New Locations
October saw the arrival of four more EC-47s in theater, including the first assigned to the 361st RS at Nha Trang. The squadron had been activated in April, and the commanding officer, Lt. Col. Ralph L. Stapper, arrived in late July. With no airplanes or pilots to fly them, Col. Stapper and a handful of NCOs "directed their efforts to squadron organization, improvement and repair of the squadron facilities, and acquisition of equipment and supplies for the squadron." Detachment 1 of the 6994th had likewise been activated months earlier, although many of the assigned personnel were still at USAFSS sites on the other side of the world.2 Nha Trang base was crowded and facilities were lacking. Both front and back end crews were often forced to find off-base accommodations.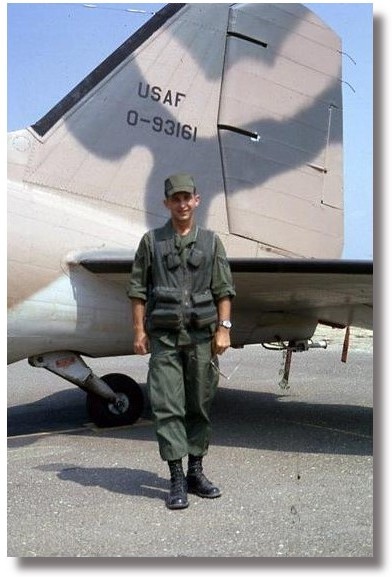 Ed Bendinelli stands by the still spotless tail of
42-93161 at Nha Trang, late 1966 or early 1967. (Tail codes would not be added for another year
or so.) Note Ed's fatigues. The first Det. 1 back
end crews were not issued flight suits!
Much the same situation prevailed at Pleiku, where Det. 1 of the 361st RS (later designated the 362d TEWS) had been established on 20 July. Like their cohorts at Nha Trang, the front end troops at Pleiku found themselves almost completely adrift. "No administrative section existed [and] no administrative officer was assigned or available." There was no first sergeant or administrative clerks. Airmen with typing ability were "drafted" to complete essential paperwork. As more personnel of all ranks filtered in, this cadre "cleared the future squadron area of tangled bushes, dense grass and boulders, killed snakes, and built or modified four buildings for operations, maintenance and administration areas."1 Reflecting the thoughts of the upper SIGINT echelons back in April, Det. 2 of the 6994th had originally been slated to open at Phu Bai on 1 October, but the unit was instead activated a month earlier at Pleiku.
Meanwhile, delivery problems which had plagued PHYLLIS ANN from the project's inception were gradually being resolved. Nha Trang received five more birds in November, followed by an additional three in December. Often the new aircraft were not fully equipped; the "Y" position sometimes consisting of little more than a chair and a clipboard. Eventually this would be corrected, but for a time back end equipment would remain rudimentary.
The first Electric Goon for Pleiku arrived on 8 December. Four days later, the unit flew its first sortie. In the remaining 19 days of the year, with four more aircraft eventually on hand, the squadron managed to fly 48 of 56 fragged sorties. Of eight air aborts, seven resulted from malfunctions in the ARD-18 ARDF system. At Tan Son Nhut, the 360th's operational readiness rate hovered around 80%, mainly due to shortages of ARD-18 and Doppler parts. Although the figures trended noticeably downwards by December, unscheduled maintenance hours amounted to 46% of scheduled hours. But once the old Goon was in the air she tended to stay there. Out of 781 missions fragged in October-December, 15 of which were cancelled beforehand, only five air aborts occurred—representing an airborne reliability rate of 99.3% and a sterling tribute to the unsung maintenance troops who made it possible. With the 361st at Nha Trang, the Not Operationally Ready, Supply (NORS) rate for the nine aircraft on hand by 2 December worked out to 6.1%, although not all the unavailable hardware was back end associated. A related issue concerned "swinging" the compass system. Only Tan Son Nhut possessed the necessary facility and calibration equipment, which meant that Pleiku or Nha Trang based aircraft would be out of service while the work was being done.
On the personnel side, "Phase II" in-country familiarization training for the front end crews continued with the 360th at Tan Son Nhut. By year end, 26 pilots and 13 navigators had been reassigned to the 361st at Nha Trang. In December alone, 23 more pilots and 12 navigators were funneled to the rapidly expanding EC-47 operation at Pleiku. As the New Year approached, only 25 of the programmed 47 PHYLLIS ANN aircraft were in Vietnam. But all three EC-47 squadrons and the back end crews from the 6994th and its detachments were in place and, within the limits imposed by equipment and other shortages, operating at near top efficiency. Results up to October had been little short of spectacular and the last quarter of 1966 would see an even greater increase in ARDF support for allied ground forces as operations intensified.
_____
1. Click here to view an interesting memo entitled "The First Days" by Lt. Col. Jack Crook, extracted from the Det. 1, 361st [362nd] TEWS history.
2. For Charlie Pippin's recollections of the "Dirty Dozen" back enders who were among the first to open Det. 1 at Nha Trang, click here.
See Annex 2.8 for sources and more information related to this article.
Article by Joe Martin
22 January 2017