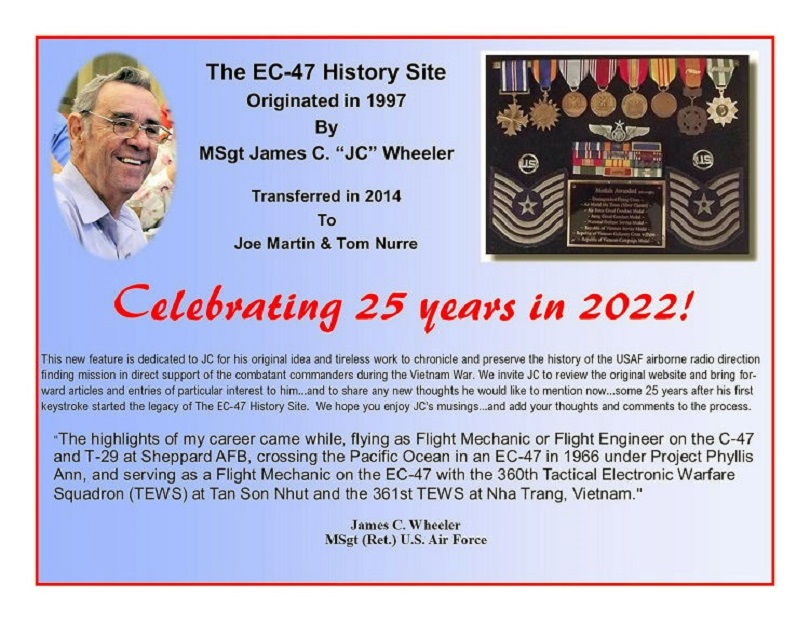 CLICK THIS LINK FOR
JC'S ORIGINAL EC47 WEBSITE
SCROLL DOWN AND JOIN IN THE CONVERSATION WITH JC WHEELER
Here is the content of an email we received recently from JC sharing some of his latest medical issues.
March 6, 2021
My last drive
Well, I guess I should let everyone know a bit about my memory. On Feb. 5th, 2021 while driving I had what some might call a seizure.
In a conversation with my wife, she said I quit responding and still traveling down the highway eyes straight ahead and both hands on the wheel.
Then it was off on the right-hand side into the ditch, off a tree, and into two of the units of a Storage Building complex.
The wife was able to make it out of the wreckage in a short time but tells me it was maybe half an hour before I was to be extracted.
After the hospital visit, we were released with only minor injuries. I have Zero Memories of any of this and the next several hours.
The insurance adjuster said he quit when he reached $35,000 in damages. The car had only 7,000 miles but I got a new one free and clear.
I am now no longer to be behind the wheel, NO MORE DRIVING. And I will tell you that having to have someone to drive you everywhere you have to go is not good.
I am seeing numerous doctors (specialist etc.)
Hope this never catches any of you.
J.C.