Not a lot has been published concerning the EC-47 and our operations in Southeast Asia. There's brief mention in the official USAF histories of the Vietnam War and elsewhere, but with very little detail and some inaccuracies. The two CHECO histories remained classified for many years, and even afterwards were not readily available to the general public. (Click here for the CHECO documents.) In the years since, several EC-47 veterans have put pen to paper–or fingers to keyboard, rather–and composed personal accounts of their tours in Southeast Asia. Others have written works of fiction based on their experiences there and elsewhere.


In the non-fiction category is The EC-47 Experience, by J.C. Wheeler, flight mech on one of the early Phyllis Ann birds and the guy who launched the legacy EC-47 History Site way back when. This one is hard to find nowadays, but J.C. gave the OK to scan it and post on the website. Click here to read or download it.
A recent addition is Chuck Miller's Soaring with Destiny: A USAF Pilot's Memoirs of Challenges, Experiences & Accomplishments. Chuck was an aircraft commander in on one of the initial Phyllis Ann birds to cross the Pacific, but this was only one year out of an eventful USAF career that included flying tankers for the SR-71 program and a stint with the Royal Canadian Air Force flying their Boeing 707 tanker/transports. Chuck's work contains lots of illustrations and some interesting accounts of various technical issues, their causes and solutions.
Larry Tart flew a different mission than ARDF, but for those ex-USAF Security Service types who want to finally tell the grandkids something about what they did in the air force, Larry's five-volume series Freedom Through Vigilance is a must-have. Given the SIGINT community's reluctance to ever fully declassify anything, this is the closest we're apt to see of a complete history of USAFSS. Volume V, "USAFSS Airborne Reconnaissance, Part II" covers the EC-47 as well as EC-130 and E/RC-135 operations worldwide.



In the historical fiction genre, about ten years ago former 6994th ditty-bop Tom Hutchings wrote Tears of Tay Ninh, a spec ops thriller that, so Tom tells us, was at least partly influenced by his time at Tan Son Nhut.
In Flyboys, Round Engines and Spooks, ex-NKP and Da Nang EC-47 pilot Lee Croisant tells the story of Eddie Warner, a young air force lieutenant in Southeast Asia during the Vietnam war who matures "in the nostalgic era of old piston engines, spark plugs, jungle and Asian splendor." Lee's cockpit dialog and descriptions of flying the Electric Goon will bring back memories.
Hot off the press (as of April, 2019) is William Woods' Code Warriors: A Year in Vietnam, the story of a crypto analyst's tour at Pleiku during the height of the Vietnam War and the personal and professional conflicts that ensue.
◊ ◊ ◊ Update 26 Jan 2020 ◊ ◊ ◊
We're pleased to announce that Arcadia Publishing's Images of America: Goodfellow Air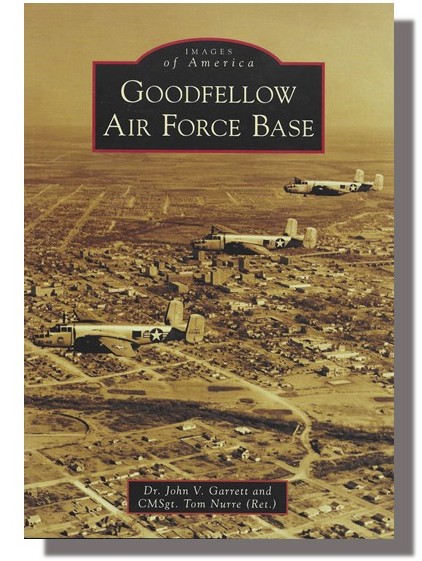 Force Base, co-authored by former 17th Wing Historian Dr. John "Doc" Garrett and EC-47 History Site co-manager CMSgt (Ret) Tom Nurre, is now available. Just about everybody who spent time in USAFSS or its successor organizations, as well as many intel personnel from other services, passed through "Goodbuddy" at one time or another. Inside you'll find some familair scenes—and some history you probably didn't know about. We're figuring on having copies for sale at the Memorial Paver Dedication in March. (Click on the thumnail for a larger image.)
With the exception of The EC-47 Experience, all the books mentioned here (including Danny Johnson's) should be readily available from Amazon.com or other booksellers. If you've read one or more of these and would like to share your thoughts or would just like to make a comment concerning published works on the EC-47, your input is welcome.