Jose Silva was a flight mech on one of the early Phyliss Ann birds. Click here to view Jose's notes on the five-month journey from Hurburt Field, Florida, to Tan Son Nhut. At 90 years of age, he's one of the true EC-47 pioneers. The story below was put together by a writer from the Seguin, Texas, Gazette around 2009.
* * * * *
When he turned 18 years of age, Jose Silva registered for the draft, but didn't get called until he was 22 years old and the Korean War had just about ended. No matter. Silva would make up for what he'd missed more than a decade later when the Vietnam War rolled around, and he won five air medals and a Distinguished Flying Cross while working as flight mechanic on a transport plane. How does the crew of a transport plane—even its flight mechanic—get to be highly decorated for heroic service? It's a long story that took a boy from Alice, Texas, with a very limited education and what was then a very limited grasp of English, around the world.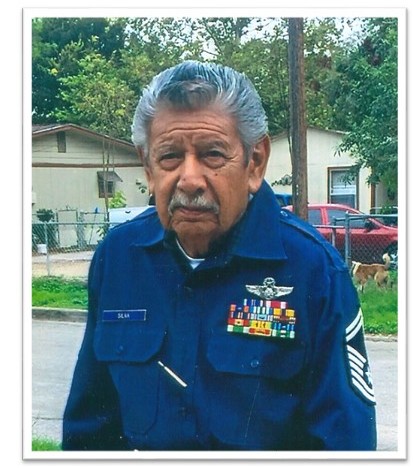 Along the way, he would discover not all that far from home a small community where he would want to live out his days quietly—in a home located across Center Street from Marion Middle School he has now owned for more than 40 years.
Silva didn't get called up for the draft for four years. When he did, and was making plans to sign up for the U.S. Army, his older brother, who had served in World War Il, told him not to do it. "He said, 'If you go in the Army, you will not come back,'" Silva said. "I said to him, the Army is only for two years—the Air Force is four, and besides, I only had a seventh grade education and the Air Force required the eighth grade."
His older brother discussed his concerns with the Air Force recruiter, and they arrived at a solution. "They cornered me," Silva said. "The recruiter said nobody would check, so I wrote eighth grade." Nobody did, and Silva went to Lackland Air Force Base, where they train recruits, and was told he would become a mechanic. "I said I couldn't even change a tire," Silva recalled. He was sent to Wichita Falls and taught how to pull an engine out of an aircraft, fix whatever ailed it and get it back into the air. Training was tough, because Silva didn't know a lot of the basic math, science and mechanics involved and didn't have a very good grasp of English.
But he studied hard at night and was within the top 10 percent of his class on graduation. So he was offered the opportunity to ply his trade in the air in some of the most prestigious work a mechanic could hope for—as a flight mechanic on a B-26 bomber crew headed to Korea. The conflict ended before Silva got there, though, and Silva went instead to Langley, Va., where he was cross-trained to fly the B-25.
"Most of my assignments then came out of Langley or Nellis Air Force Base in Nevada," Silva said. He also did hitches at Howard AFB in the Canal Zone and, in the early 1960s, got assigned to Randolph Air Force Base.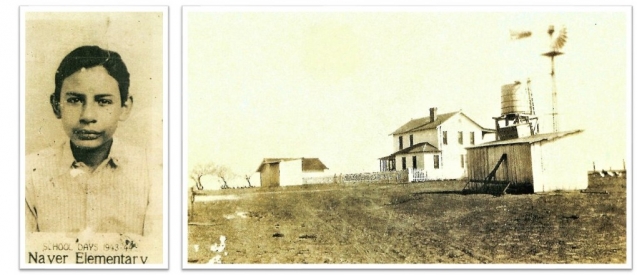 At various times Silva would be tapped for administrative jobs as he rose through the noncommissioned officer ranks, but he would, until late in his career at Randolph, always work the system to try to stay on flight status. "I'd say, 'That's not me,' " Silva recalled. "I fly. I crew on airplanes." And it was that attitude that, in 1964, got Silva, who had just bought the Marion home he still lives in, sent to Vietnam.
He came back from Turkey, crewing on a C-47, and at Randolph, because of his experience and his spotless service record, he was assigned to be part of the crew that would be responsible for landing and parking President Lyndon Baines Johnson's Air Force One at Randolph on the occasions when the president came back to his Texas ranch. "I was very happy flying C-47s, and all of a sudden, they were saying, 'Silva, you've been assigned to the president's crew.' I said, 'I'm proud to fly an airplane, but parking one seems to me like a step down,' " Silva recalled. He went around the folks who had appointed him to Johnson's detail to the assignments desk, and found there was a job available for him flying C-47s, but the details were a little sketchy. He would fly to New Hampshire, where a C-47 was to be outfitted with special equipment, and the accompany the plane to Tan Son Nhut Air Base outside Saigon, where he would then fly missions looking for someone named "Charlie."
Until he actually got to Southeast Asia, Silva knew little else, and he didn't talk about the assignment for years because it was classified. "They'd developed special equipment in New Hampshire that could detect people or machines on the ground, even under the jungle canopy," Silva said. The missions weren't easy, and sometimes attracted unpleasant attention. When the crew got back to Tan Son Nhut technicians would unload canisters of film and other data. In his one year tour, Silva flew 120 missions for a total of 800 hours in the air. Silva doesn't say much about the work except that it produced plenty of information of vital importance to ground troops. He still has the orders and the citations for his air medals and his DFC. Instead of saying just what he and his fellow crewmembers did on their missions to earn the decorations, the paperwork only lists dates and times that the flights were conducted and names of the men involved. The rest was classified.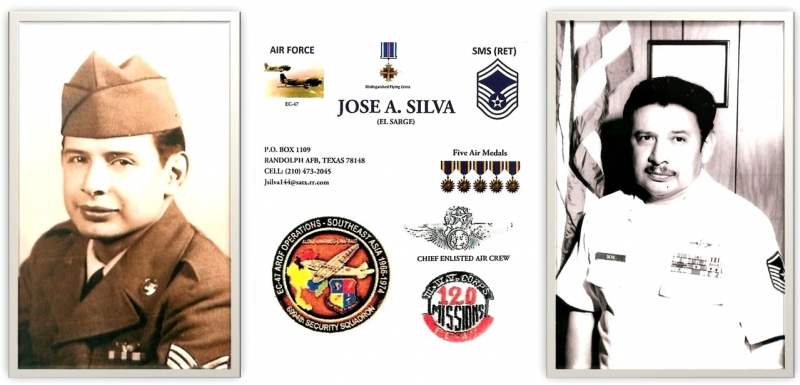 At the end of his tour, Silva returned to Marion and to Randolph Air Force Base, and resisted entreaties by his superiors to go back to Southeast Asia. "They'd call sometimes and say, 'Hey, we need someone with your expertise again,' " Silva said. He did about a year at Randolph and then went to the Canal Zone again, doing three years at Howard before returning to Randolph in 1973. In 1975, Silva did accept another assignment to Southeast Asia, this time to Thailand and this time probably even more secret than his first tour.
They operated for a civilian intelligence agency out of a fenced and carefully guarded compound, flying over Cambodia and Laos at a time when the official policy of the United States was that no such flights were taking place. "Only a very few people knew about these flights,'" Silva said. "When the war ended we were supposed to be out of there. But they were looking for prisoner of war camps and places where our MIAs might be."
When word leaked out in the U.S., the missions were curtailed, and Silva was sent back to the states again, and again he wrangled an assignment—his last—to Randolph. Silva would stay in until, as a senior master sergeant—the next-to-highest enlisted rank in the air force—he was retired in November, 1980, after 28 years in service. The military was very good to Silva—now in his '70s, he's grateful for the retirement check he earned, and says he would recommend it to this day to any young person. "A guy with a seventh grade education served 28 years, flew around the world and made senior master sergeant," Silva said, "I thought that was great."
Article posted
23 May 2020