"Flying with the 6994th Security Squadron was the highlight of my career. We had a job to do and we did it above and beyond."

By J.J. Pitzeruse
I first would like to provide information about my association with the Republic of Vietnam prior to and after my tours with the 6994th Security Squadron. To start, I was assigned to Det. 2, 6925th Security Squadron in January 1964. When I arrived there, we were working out of vans in the POL (petroleum, oil and lubricants) area across the road from our dorms. It was an interesting year, and I was there during the Gulf of Tonkin incident. We lived in tents next to the runway and used drop tanks for our showers. I departed Danang in January 1965.
After leaving Danang the last time, I went to the 6990th Security Squadron at Kadena, Okinawa. I then continued flying into Vietnam and ended up with 73 combat missions, 13 combat support missions and 45 PARPRO (Peacetime Airborne Reconnaissance Program) missions.
In 1968, I volunteered for airborne units in Southeast Asia (SEA). I received orders for assignment to the Det. 2, 6994th Security Squadron at Pleiku Air Base, South Vietnam. Before arriving, I attended worldwide survival training, water survival training and the airborne course at Goodfellow AFB, Texas. My first flight was on Feb. 2, 1969.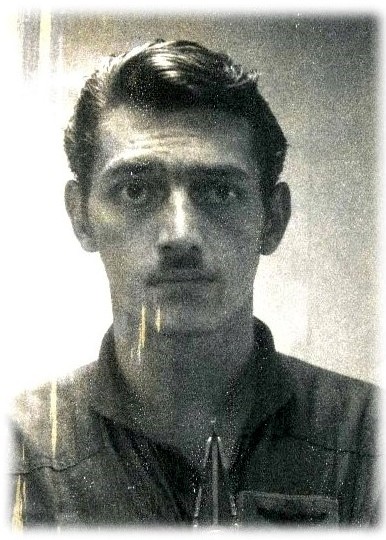 After that first mission, I was hooked. In August 1969, I was sent on temporary duty (TDY) to Nakhon Phanom Royal Thai Air Force Base (NKP), Thailand, to assist in the startup of Det. 3, 6994th Security Squadron operations. I flew on a mission over and was greeted at the plane by B.J. Witt, who was NCOIC, first sergeant and one damn good friend. He drove me over to the Thai restaurant on base. As I had just flown the mission, I still had the mission bag with me. We had a nice meal and a few libations before we went to ops and debriefed. B.J. then took me over to the senior NCO billets and signed me in as a master sergeant (MSgt). I was in my flight suit most of the time, so he had never seen me in uniform.
It got a little heated when they ran us out of country due to the cap on the number of cryptologic troops authorized in Thailand. When I checked out, I had on my fatigues with staff sergeant (SSgt) stripes. The NCOIC took umbrage with the fact that I was actually two pay grades lower than when B.J. signed me in. There was some talk of disciplinary action, but none ever came about. When I returned to Pleiku, I resumed my normal duties and ended up flying 161 missions. I really enjoyed the mission and the companionship of some really great individuals.
I returned to Misawa, Japan, and was destined for problems. I hung tough, and with the aid of some great supervisors, made it through with only minor scars. Because I was always on the fringe of trouble most of the time, I volunteered again for Vietnam. I received my assignment and processed out, but then was notified that my assignment had been canceled. My NCOIC told me that it would be straightened out and to enjoy myself, which I did. After a week or so, I received new orders and was on my way to Det. 2, 6994th Security Squadron now at Danang.
It was old home week when I arrived. Art Silvin, Mike Wilson, Don Boston, Wee Willy Christian, Junior Barnes, Curt Cross and some other outlaws were there, and it was party time. We worked hard and partied harder. As I look back, it seemed that we never knew if we were coming back from a mission, so we enjoyed life to the fullest (some more than others). When I arrived at Danang, we stopped at an airfield south of Danang and I grabbed my bags and got off the plane. I didn't realize I was at the wrong airport, so I missed my fight out. I called the unit and notified them of my situation, and they said they would send someone to get me. My driver turned out to be the Operations Officer, Ron Chapelle. We had a good talk on the way back. When we got to the unit, I was greeted by my friends and ribbed about my "Wrong Way" Corrigan adventure – and then we went to the club and proceeded to celebrate until the place closed. I got signed in the next day and got back into the groove. Art, Don, Mike and Wee Willy were in the SEFE (standardization evaluation flight examiner) and scheduling sections, so they took care of Junior and myself as far as flying and trips to NKP for a RON (remain overnight), which were fairly frequent.


A Couple of Quick War Stories
We weather evacuated to NKP, and all of us were put up at the hotel in town. Junior and I decided that it would be fun to go out on the ledge and tap on Capt. Ron's window and flash him. We put on our combat boots (and nothing else) and went out the end door. As soon as the door shut, we both realized that it was a fire door and we were locked out. Not to be deterred from our mission, we went on to Ron's room. The only problem was, he was not in. Now we realized that we really had a problem. We discussed it and decided that the only thing we could do was to go down through the lobby and take the elevator to our room. Good idea (?). We casually walked into the hotel with our heads held high and walked directly to the elevator. There was one individual in the elevator, and he looked at us then looked at the ceiling for the rest of the ride. I don't know how long it was, but someone from the hotel came to our room and asked us to leave. Well, another nice mess you've gotten us into, Ollie!!!
The Marines had some barracks just below ours, and when they moved out, Junior and I decided that the abandoned bar would look good in our room. We hauled it over and set it up – one (of many) of our dumber moves. We always had some type of activity going on in our room. We would get to bed at 1 or 2 a.m. and then get up at 4 a.m. for our early flights. There was a lot of fun had by all, most of the time.
It wasn't all fun and games, though, as we flew as much as we could. On Oct. 5, 1972, we were returning from a mission and, as usual, we asked the pilot to take a swing around the base to see if there were any targets of opportunity. The pilot asked me if it was alright to get below the cloud cover, and I told him it was fine with me. As we broke out of the clouds, we took three small-arms hits: one behind the pilot's seat, the second went into the flight mechanics compartment and then into our area, and the third was farther to the rear. We completed all our emergency procedures, and I called in a Condition Golf (battle damage). We were the center of attention for a while, and then the realization of what had happened hit us. We went to the club to unwind and, as usual, we overdid it – and paid the price the next day.
On one mission flying with Ken Gendolfe, I drank some milk that morning that did not agree with me. I went in the rear to use the "honey bucket." There were no plastic bags available, and it was a "you use it, you clean it" rule. I went back to my position and asked the navigator if he had any alligator baggies (I knew he did). He gave me one, and I went back into the tail and did my thing – and tied the bag up and threw it out the window. A few minutes later, I needed another bag as my stomach was grumbling again. I asked the navigator for another baggie, but he said that he only had one left. I explained that it was an emergency and I would name my first born after him. With baggie in hand, I went back to the rear and unzipped my flight suit, letting it drop to the floor. I completed my thing again. As I was lifting the baggie, the seam gave way and I now had feces on my flight suit, my boots and everything else it would stick to.
I very carefully extracted myself from the flight suit. I was now dressed in a T-shirt, boxer underwear and slightly messy combat boots with my gun and gun belt strapped around my waist. A little while later, the aircraft commander can to the rear. He looked at me and said, "I am not going to ask," and continued by. I radioed the unit and told them that I needed a uniform delivered to the plane. They responded with an OK. A few minutes later, they called me back and asked if I wanted a UHF1 or UHF2. I told them that I needed a uniform, pants and shirt. When we landed and taxied to our revetment, there was a crew van there with many of my friends aboard. There was some cheering, and I was forced to smile as I knew that I was in for some ribbing. When Ken Gendolfe brings up the subject, I just say, "I don't want to talk about it."
We used to land at Hue Phu Bai to drop off our mission results to the Army Security Agency (ASA) troops. Once again, I needed to go to the restroom. I asked the pilot if I had time to go to the terminal to use the restroom. He said okay and I headed out. Once inside, I noticed that they had a bar. After taking care of my business, I went to the bar and bought some Bánh-mì-ba beer and returned to the aircraft. The back-enders drank beer on the way back to Danang.
There are plenty of other stories, but they are not for children or the faint of heart. I flew my last EC-47 mission on Dec. 24, 1972. For my 2.5 years with the 6994th Security Squadron, I was awarded:
Distinguished Flying Cross with 1 Oak Leaf Cluster
Air Medal with 9 Oak Leaf Clusters
New York State Conspicuous Service Cross with 5 Gold Crosses (21 awards)
Basic Air Crew Member Badge (permanent)
My Grand Totals for EC-47s and RC-135s:
EC-47 – 352 Combat Missions
RC-135 – 73 Combat Missions, 13 Combat Support Missions, 45 Peacetime Aerial Reconnaissance Missions
Total – 425 Combat Missions & 13 Combat Support Missions
Flying with the 6994th Security Squadron was the highlight of my career. We had a job to do and we did it above and beyond. I made many good friends for life ("friendships made during war will never end") and have the satisfaction that we did our best in a situation that was not popular with the majority of our country. I am proud to say that we were the most decorated unit in the history of USAFSS, and I was able to add my little contribution to the overall effort.