The EC-47 Memorial Plaza paver supplier, Leave Your Mark in Phoenix, Oregon, advises that they're purchasing a brand new engraving machine and have every intention of fulfilling all open orders ASAP...which will probably be sometime in February/March 2022. The plaza dedication ceremony date remains very much up in the air. We're still hoping for Vietnam Veterans Day, 2022, but with the Covid resurgence, we're back in the guessing game. As always, stay tuned. You'll know as soon as we know.
Meanwhile, Tom's been busy in other areas. The image below is of a patch that we're looking to place on caps. The patch is approximately 4 long by 3 inches high. The border colors in the scan turned out a shade different (mostly lighter) than the real deal, but it'll look good on your noggin' once the details are worked out.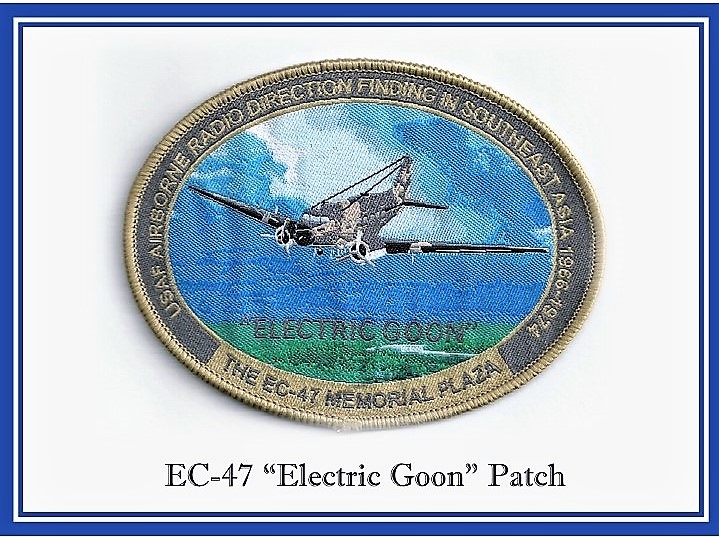 Veterans Outreach Continues
Continuing our Commemorative Partner alliance with the 50th Anniversary Vietnam War Commemoration, the American Legion, and the Heritage Chapter, FTVA, a "joint operations'" 4th of July motorcade crisscrossed San Angelo to present pins and In Memory Of "yard signs" to local veterans and surviving spouses. Click here for details and some great pix.

Joseph Lee Galloway, 1941-2021
All Vietnam Veterans lost a true friend and advocate with the passing of Joe Galloway on August 18. Joe was more than a war correspondent, although in that award-winning role he covered the Vietnam War the way Ernie Pyle covered World War II.

His account of the epic 1965 battle in the Ia Drang Valley, so vividly described in the best-selling We Were Soldiers Once ... And Young, will stand as one of the best portrayals of infantrymen in combat ever written. We'll miss him. R.I.P., Joe.
Updated 25 August 2021