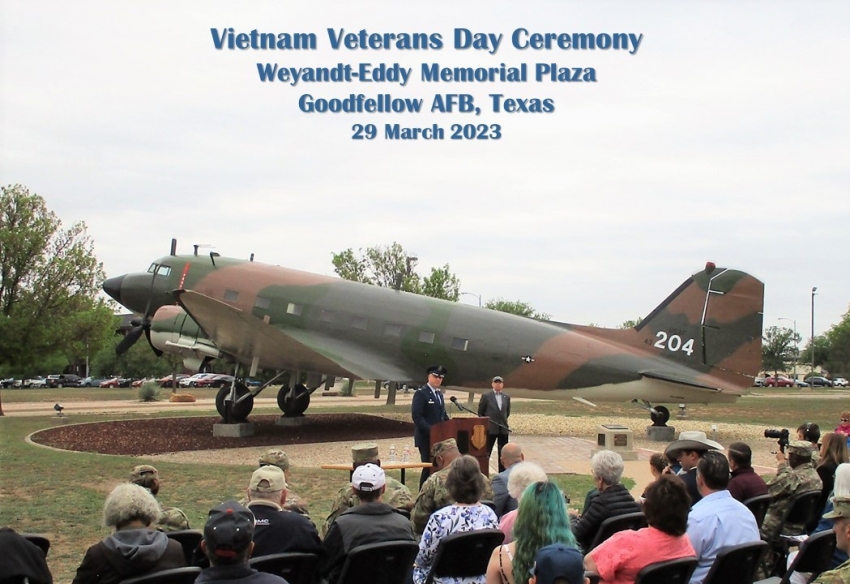 Col. Matthew Reilman, 17th Training Wing Commander, addresses the crowd
The ceremony was well attended, with several veterans and Blue Star surviving spouses being honored with pins and certificates. The evening dinner was also quite a hit, with recognition of some Security Service "Elder Pioneers" aged 85 or older. The short-timer Seagram's V.O. bottle was duly uncorked and its contents disposed of in a mass toast. Island Enterprises again came through with outstanding hand-carved models, all four of which were sold in a silent auction. The proceeds from activities like this go to support our "Pavers and Pins" program honoring surviving spouses of deceased veterans.



(Left) Henry Cislo, proprietor of Leave Your Mark, LLC, gets a closeup view of his company's handiwork. (Center) Col. Reilman presents former EC-47 pilot Allen Simmons his certificate of appreciation. Allen's dad flew Goons in WWII. (Right) The Island Enterprises models on display.
Click to view 294 photos taken during the commemoration ceremony and the Wednesday evening dinner. These may be downloaded and reproduced for personal use, but please credit Carl Bradley of Faith in a Flash Photography and The EC-47 History Site Commemorative Partner Program.
Goodfellow senior leadership has agreed to make the Vietnam Veterans Day Ceremony an annual event, so mark your calendars now for next year's event, to be held on or about March 29, 2024.