One EC-47's Story
C-47A-90-DL, AAF serial number 43-13979, rolled off Douglas Aircraft's Long Beach, CA, assembly line around the end of May, 1944. On 2 June, the aircraft was at Morrison Field (Palm Beach, FL). War's end found 979 at Brookley Field, AL, near Mobile. After bouncing around Stateside for a few months, in early 1948 she found a home at Elmendorf AFB, outside of Anchorage. For the next 15 years the Gooney Bird lumbered around Alaska, mostly as a VIP transport, before being relegated to the "boneyard" at Davis-Monthan AFB, outside of Tucson, AZ.
In September, 1966, the mothball covering came off and 979 left the Arizona desert for Air International in Miami, the outfit contracted to begin the process of conversion into an EC-47. Production snags at Sanders Associates delayed installation of the AN/ALR-34 ARDF system until February, 1967. One of the last PHYLLIS ANN birds to make the transpacific crossing, 979 finally arrived at Pleiku on 16 April 1967. It was here that "The Marauder" name was applied, although exactly when or by whom we don't know. By early 1970, however, all EC-47 nose art had been removed.
Like most other N and P models, 979 was shuffled from squadron to squadron after completion of regularly scheduled Inspect and Repair as Necessary (IRAN) work in Taiwan.
Had the AAA round she took on 24 April 1968 burst a few feet in another direction, 979 might well have been added to the shoot-down list of EC-47s. As it turned out, the old bird soldiered on to the bitter end, being one of 33 EC-47s turned over to the VNAF in 1973. Several EC-47s escaped to U Tapao when Saigon fell on 30 April 1975. It is not known if 43-15979 was among them.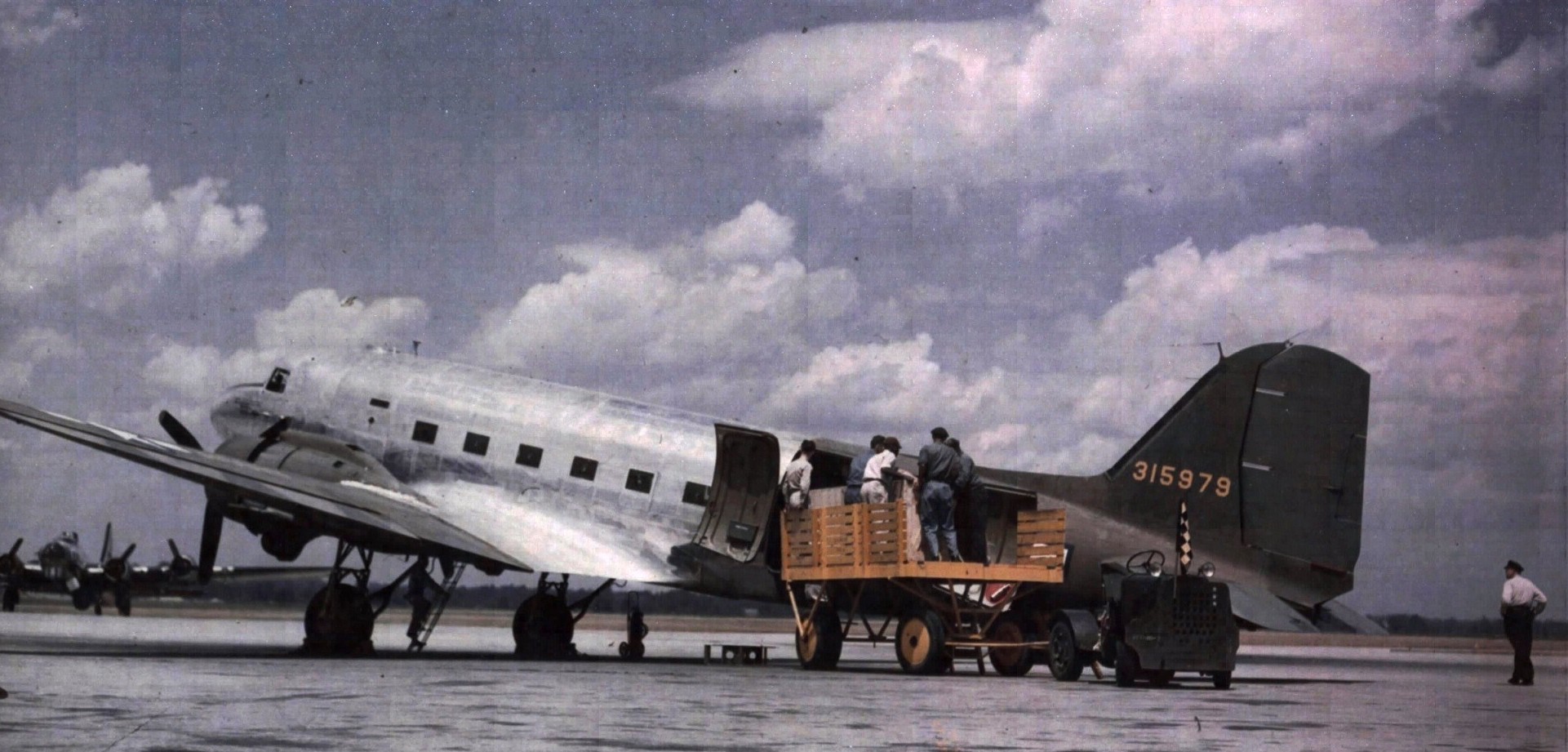 Towards the end of WWII or shortly thereafter. The olive drab camouflage paint has been stripped from the forward fuselage.
(USAAF photo via Fold3.com)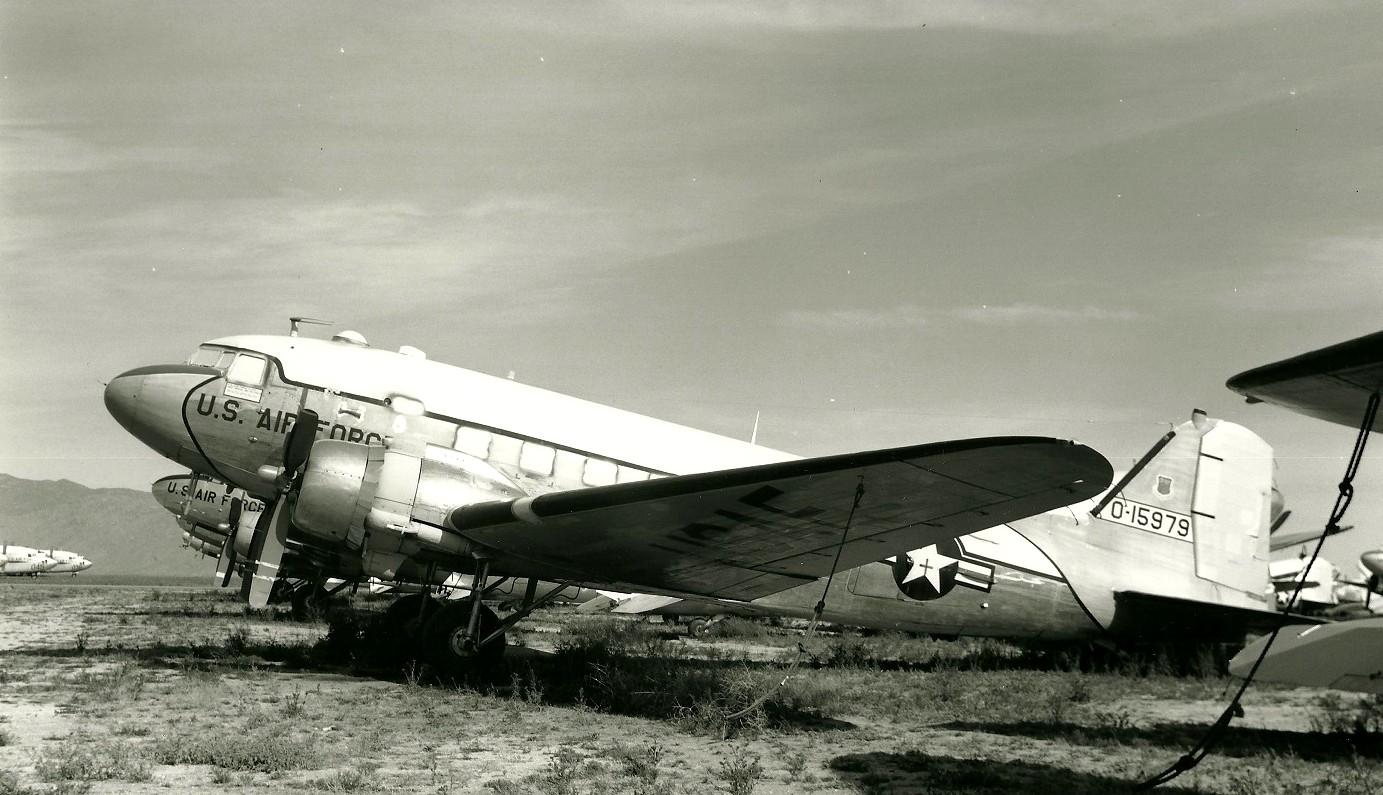 In the Davis-Monthan boneyard. (Norm Taylor photo.)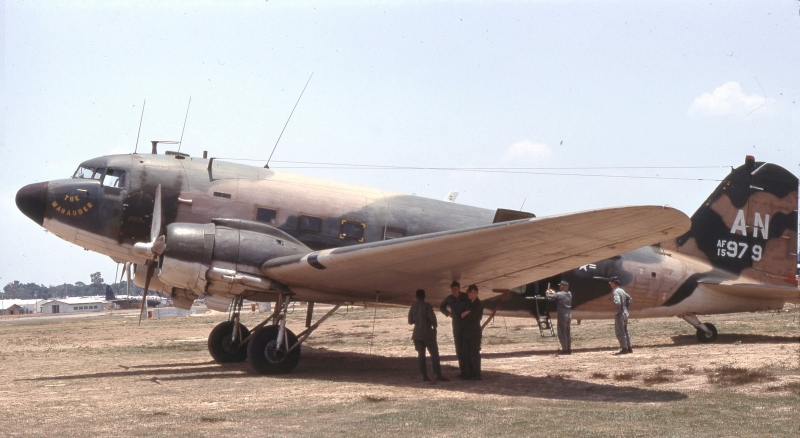 With the 362nd TEWS, apparently after the empennage repair/repaint. (Norm Taylor photo)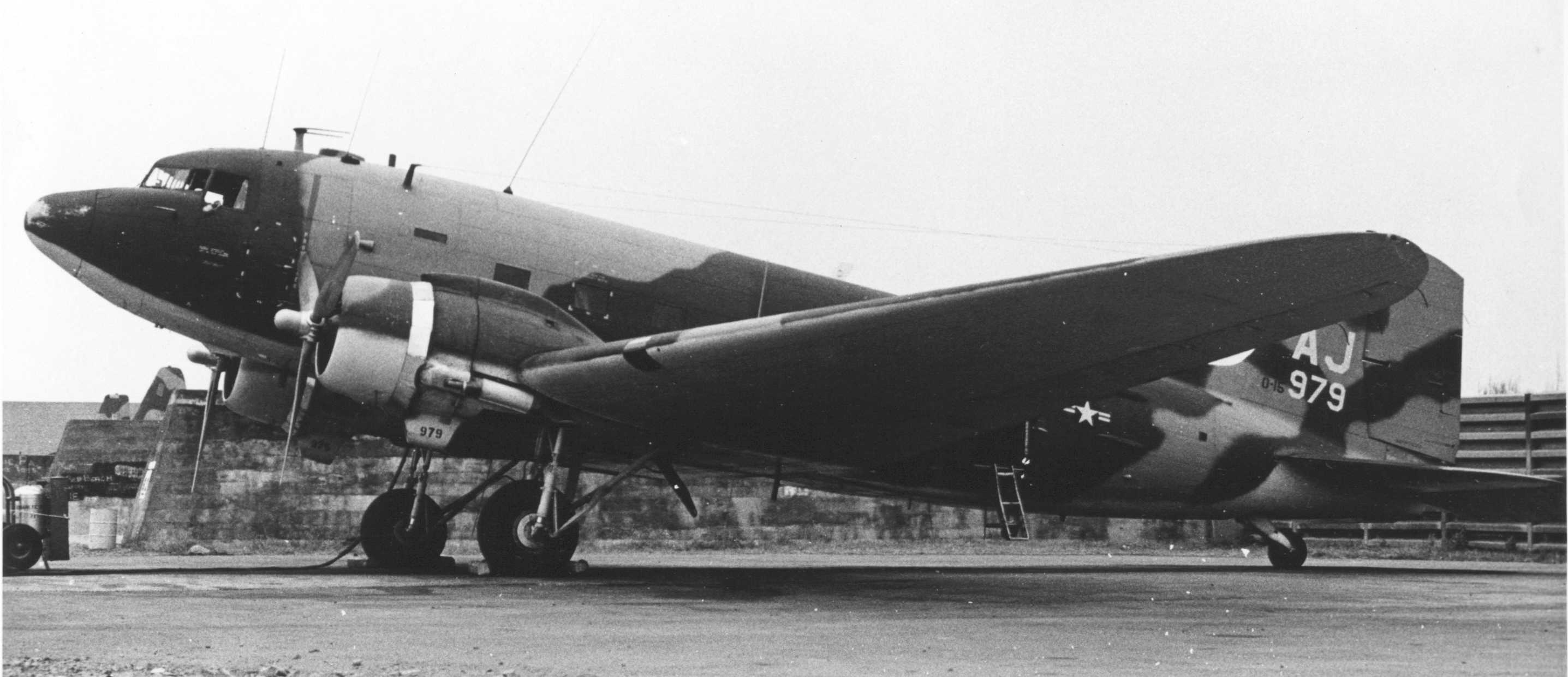 With the 360th TEWS, Tan Son Nhut, 1971.
Note the slight difference in paint demarcation lines and placement of the squadron code letters from the shot above.
The radome has been painted over and "The Marauder" is long gone.
(Joe Martin photo. My flight records show I flew 12 missions on her during 1970-1971, all but one out of TSN. The other was from NKP.)
(Return to previous page)