This is strictly preliminary, but pencil in
Friday, 25 March 2022
on your calendars.
We're looking at that date for the dedication of the EC-47 Memorial Plaza at Goodfellow AFB, San Angelo, Texas. The Freedom Through Vigilance Association (FTVA) has been invited to hold its annual reunion concurrently. Our San Angelo detachment is talking with local hotels, caterers, and so forth.
We're also exploring naming the plaza in honor of a couple of key players in the development and fielding of the EC-47. And we have some encouraging news from our paver plaque supplier, who advises that they're in the process of procuring a laser engraver. That'll mean faster turnarounds and sharper detail. Click here for complete details on pavers and the project in general.
As we all know, it's impossible to predict how the Covid pandemic or other events will play out, but that's where we are today. More as we go.
♦ ♦ ♦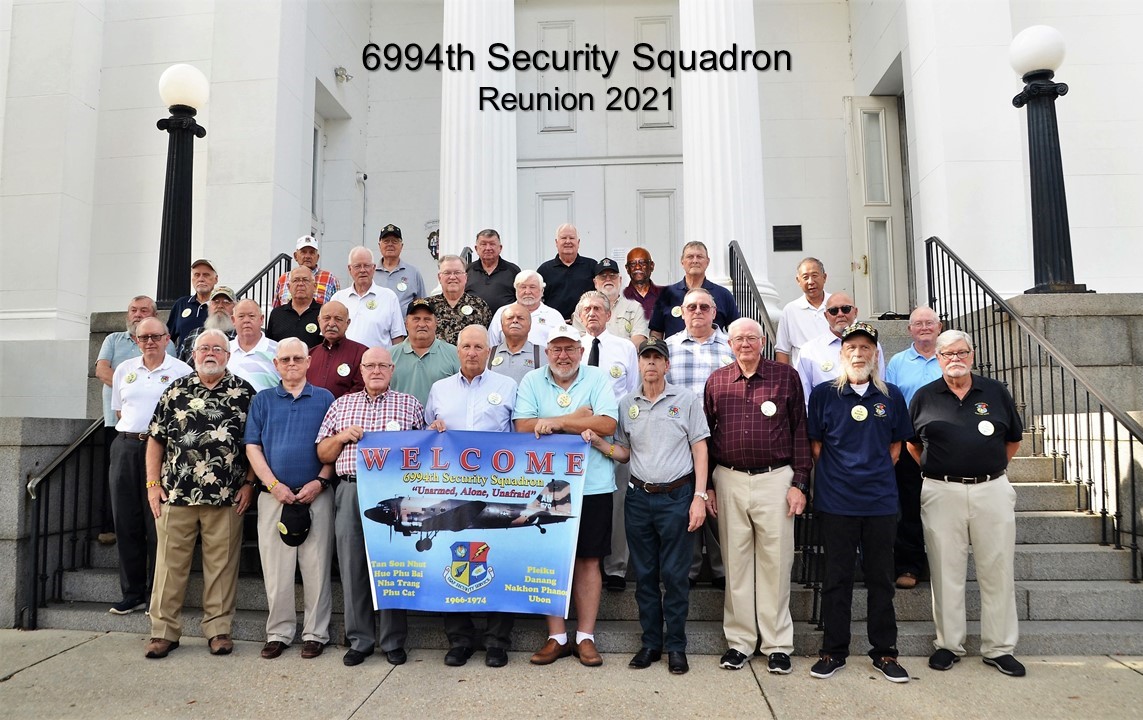 Brushing aside Covid obstacles and hurricanes, the 6994th Security Squadron held its annual reunion in Mobile, Alabama, August 26-28. Like many other organizations, the 94th was forced to cancel its 2020 get-together but elected to roll the dice and reschedule the same venue for 2021. It was almost "back to normal" for the 70 or so vets, spouses, and guests who made the event a success.
A majority of the troops are vaccinated, which eased Covid anxiety. What could not be foreseen was Mother Nature. Hurricane Ida rolled in about a day after we did. A few bailed early, but the field trips and Saturday banquet went on as scheduled. Unfortunately, our USMC color guard was ordered to RTB early in case emergency operations became necessary. As it turned out, Mobile ended up with a good soaking, but not much real damage.
As always, first-time attendees or those vets not previously honored were presented with 50th Anniversary lapel pins and certifications of appreciation from The EC-47 History Site. This year we also recognized Gold Star members of the family of Mike Stiglich, who was killed in the 1969 crash of Prong 33. Click here for the complete "After Action Report" submitted to National HQ.


| | | |
| --- | --- | --- |
| | | |
| Rick Yeh presents the Gold Star certificate to Jenny Russell | | Joe Martin (R) presents a cert of appreciation to fellow TSN vet Curtis Parker |

Next year's confab will return to the Nashville, Tennessee, area. For several reasons, we're contemplating making that a PCS move, but of course many details remain to be worked out.
Updated 09 Oct 2021