UPDATE (25 Jan 2020)
The paver dedication ceremony has been set for Friday, 27 March 2020. Details are still being worked out with Goodfellow, so stand by.
The city of San Angelo will celebrate Vietnam Veterans Day on Sunday, 29 March, at the LeGrand Alumni and Visitors Center, 1620 University Ave, San Angelo, TX 76904. After the formal ceremonies, Elks Lodge #1880 will host a cookout, complete with DJ spinning Vietnam-era vinyl.
Both these events are open to the public, but if you plan to attend the paver dedication, please RSVP ASAP at
http://www.vietnam50thcpp.com/rsvp-vietnam-veterans-day-ceremony
Click here for the latest RSVP list.
Depending on the number of attendees, we may plan some sort of EC-47 veterans (and guests) gathering at one of the local watering holes, date/time TBD.
* * * * *
The replica EC-47 "Electric Goon" on display in front of the 17th Training Wing Headquarters at Goodfellow AFB since 2005 stands in tribute to the Intelligence, Surveillance, and Reconnaissance (ISR) mission that has been the base's focus since 1958. During the Vietnam War hundreds of U.S. Air Force Security Service personnel trained at Goodfellow for the EC-47's Airborne Radio Direction Finding mission before deploying to bases in Southeast Asia.
Thanks to a generous grant from the Freedom Through Vigilance Association (FTVA), San Angelo's FTVA Heritage Chapter will sponsor a significant upgrade to the display, scheduled to be dedicated during the nationwide celbration of Vietnam Veterans Day in March, 2020. The display, consisting of nearly a thousand concrete paving blocks arranged as shown in the rendering below, will honor veterans of all service branches and all time periods.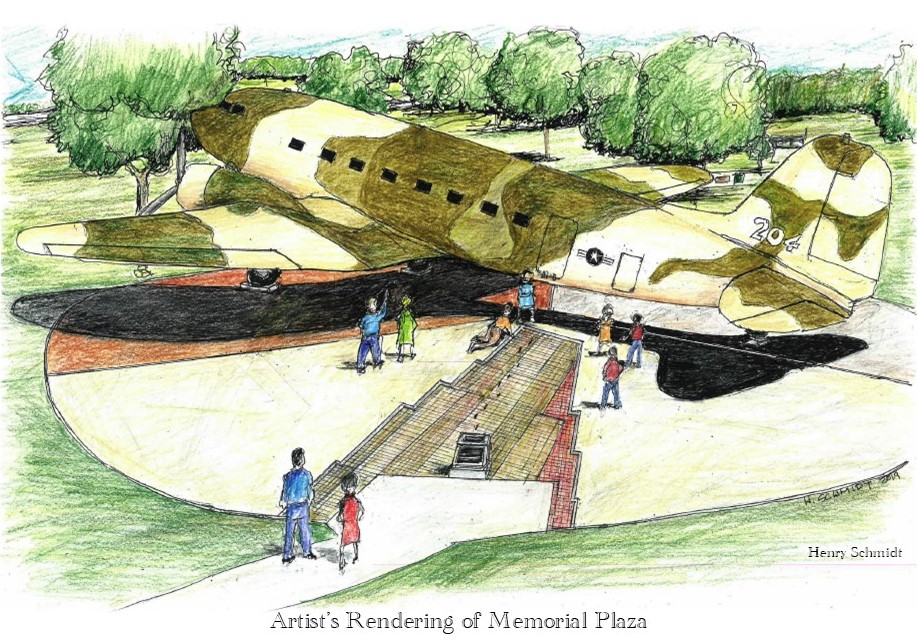 Pavers will be available in two sizes and styles. (Click the bricks for a larger image.) A $50 contribution will memorialize a veteran with a 4 X 8 paver, or donate $100 for the 8 X 8 size. Reservations will be on a first-come, first-served basis. The schematic below shows the arrangement of the pavers. (Click the diagram for larger image.)

For more details and order forms visit http://www.vietnam50thcpp.com/pavers or click on the rendering.

Meanwhile, the website content can be accessed by clicking on any of the black bars on the left of the screen. And the legacy site is right where it's always been. Just stow the gear pins, click on the streamer, and take off !